Sakthivel Ramaswamy, popularly known as Shakti in Pune's Business circles puts a large smile on his face when asked the reason for his popular Idly Dosa batter brand Balaaji.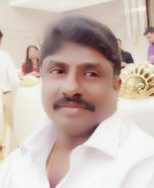 Sakthivel Ramasamy, Sri Balaji Foods.
Started way back in 1999, Sri Balaaji Foods, Pune enjoys a substantial market share of Idly Batter. "After Corona outbreak, people are sceptical about the roadside vendors and we are the top-selling brand across PCMC & PMC," says Shakti. He fondly recalls the early days when he used to deliver by his two-wheeler to every retail outlet and restaurants.
Balaji batter can be used to make Idly, Dosa, Uthappa, sponge dosa, aape & many more delicacies. No wonder why Balaji batter is the most sought brand by Five-star Chefs like Hyatt, Ibis, Taj group of hotels.
Another ace product of Sri Balaji foods is most popular Malabar Parotta. The South Indian delicacy is in high demand even in cities like Ludhiana, Delhi etc.. This has given the confidence to Shakti to add  Products like Chapatti, Wheat Lacha Parotta, Roll wraps, stuffed Parathas and many variants of Muruku (Chakoki). outbreak
"We are launching our Brand GRANNY across Maharashtra. Our mobile platform is ready and will be introducing Dairy products like Malai Paneer, Curd, Ghee & Frozen stuff like Green Peas, Sweet Corn etc.." Shakti concludes.
Sakthivel Ramaswamy can be reached at –