"We began with humble Home-based Kitchen making Delectable and Unique Grill based delicacies that soon got us recognized. This helped us evolve into 'Do It Yourself BBQ Parties' with The same intention back then as Now – to Make the Juiciest and unique Grills for our guests and create an experience long-cherished" Anish Bhanwadia begins his talk with India Startup360 in an emphatic manner. 
Anish Bhanwadia, Chef & Founder – Grillicious Foods, Chef & Co-Founder – AVA Foods, Chef & Founder of SaMoCha – Veg & Proud, Founder of Spice Circus,… the list goes on. Anish's quest to look for  Profit Centric approach, Consistency and High Shelf Life of the product and above all Great Taste is the prime motive behind all these ambitious & successful Business models.
After graduating from Huddersfield University (UK) in 2002, Anish did his Professional degree in Hotel Management from IHM Aurangabad (Taj Group). He also has rich experience of over 18 years in Hospitality, working with 5 Star hotels such as Taj & Marriotts to business ranging from Corporate catering,  Bakery, Café to Restaurants, Hotel & Processed Food Manufacturing.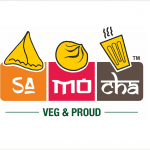 Another vertical in this brand was Frozen Food Manufacturing to cater to our outlet needs as well as retail distribution. Today with over 30 products in the portfolio, it's become a popular and well-known brand of frozen snacks in the Pune market. Anish plans to get Pan India soon.
"With a rise of street food popularity, we started this Franchised Pure Veg Snack Outlet Venture in 2019 serving many varieties of Samosas, Momos, Chai, other snacks, Kulfi and Beverages and in just 1 year, we are now at 5 operational outlets in Pune, Mumbai and Bangalore. Spice Circus provides all the frozen snacks to these outlets and hence, it's time now to take this venture Pan India due to its affordability" Anish sums up.
There's a woman behind every successful man. It's true even in the case of Anish Banwadia. His enterprising wife – Sonali Bhanwadia, a high business acumen lady with a thriving Online Apparel & Jewellery business with their lovely Daughters – Sanika Bhanwadia (10) and Anika Bhanwadia (6) support him ably. The children have also invested their pocket money savings in Anish's businesses to get higher returns!