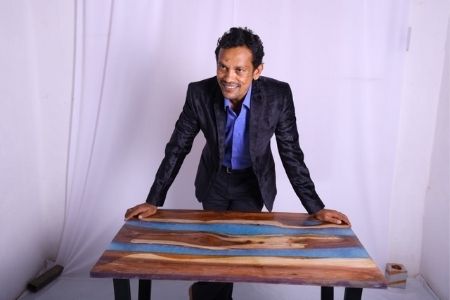 'We are the only premium and luxury Epoxy resin manufacturer in the state, serving' Founder of Mangofruit Brand Activation and Co-Founder of Craftica Epoxy Resin Furniture Manufacturer, units of Workfinity Ventures based at Coimbatore in TamilNadu.
'With my Brand Activation Company, Mangofruit, I was able to provide jobs to about 15 guys and catered 40 corporate clients for brand activation services across TamilNadu and Kerala. It's the first in row and is the leading brand activation agency in Tamil Nadu' ads Prakash. With the huge experience and exposure, I decided to start my new venture, in 2012 with my Counterpart, Prakash Kuttapan. After a brief study, we felt Business Model Canvas is the right format, which proved to be the perfect approach. This rich experience was the starting point of our new Brand 'Craftica'. When we realized that there are very few players in the Epoxy Resin Furniture domain, our next venture Craftica was born.
Prakash Kuttapan
Founder of Mangofruit Brand Activation & Co-Founder of Craftica Epoxy Resin Furniture Manufacturer,
'My ancestors were carpenters and so by birth I have the carpentry skills in my blood and brain' smiles Prakash. 'During my childhood I used to help them with some innovative ideas. Now the time has come to implement my innovation and learning. I am sure my ideas will add more color to wood so my and I can customize them with any patterns and texture. I hope my kids can see furniture in all colors' says Prakash.
Born and brought up in South India (Coimbatore), Prakash completed his Master graduation in International business and started my career with brand activation agency in 2002 and has a comprehensive work experience in Brand Activation. Craftica is available in different categories. Resin Furniture, Space Saving Furniture, Gadget Furniture & Decorative.
'Furniture plays an important role everywhere, but unfortunately customers do not have option beyond the wood texture designs… At Craftica we create furniture with unlimited colors, textures and creativity. With our R&D, we have developed many adoptive technologies to customize the furniture as per your imagination, convenience & Space constraints. For example, if you run a hotel or restaurant you can have food items embossed on the table. One of our customers had their late grandfather's pen fixed on the table his memories will remain forever' concludes Prakash.
Let us think in this way, if you want to make your kid a doctor in future, customize his study table with a stethoscope embossed in it. Don't you think the kid will always be focused while studying using the table all the time?
Prakash Kuttappan can be reached at