Single touchscreen to minimise physical contact with plastic switches while you Drive' Cochin based -Startup's innovation!
Vi Innovations™ Pvt. Ltd, Cochin has developed a new Automobile Device Control System which will give a 'Premium Experience' to all cars. Vimal Kumar C R, Founder CEO, Managing Director of Vi Innovation explains. 
'Its an Electronic Device Powered by a Mobile App. An Economy car has many limitations such as –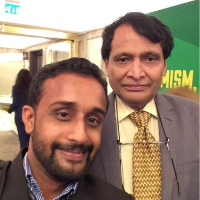 These features will empower everyone. Even a Differently abled person can mow drive the vehicle with great confidence as he has everything in Single Touch. The device can be configured to any brand, any Model & any variant with ease. No additional modification required for any vehicle.
In the context of COVID, it is the best innovation which reduces the multiple switches touch as the driver has to handle everything on the Mobile. No doubt the demo Videos have gone viral in Social Media and Vi Innovation has received an overwhelming response to the product and many OEMs, Pre-Owned Car dealers, Accessory shops, individual car owners across the Globe have shown interest to adopt the system.
'India has a used cars market of about 2.30 Crore vehicle as Total Addressable Market of which only Kerala, Maharashtra & Delhi has a major share of about 20 Laks cars as Serviceable Addressable Market & we target 5% as Service Obtainable Market' Vimal ascertains.
Vi Innovation plans to penetrate into B2B- OEMs and Pre-Owned Car Dealers • B2C- Direct consumers • Sales via accessory shops • Online Sales. Vi Innovation has a very long list of awards and recognitions both in India & Globally. The Unit is Incubated at Makers Village, Cochin, supported by Kerala Startup Mission and Auto Nebula as their Accelerator. 
When asked about the secret of their success, Vimal emphatically says "Do Not Sacrifice Your Dreams." 
Vimal Kumar CR can be reached at –
Scan the QR Code to Know More About Vi Innovations™ Pvt. Ltd