"As with most fine things, chocolate has its season. There is a simple memory aid that you can use to determine whether it is the correct time to order chocolate dishes: any month whose name contains the letter A, E, or U is the proper time for chocolate."
Deepak Toshniwal – Founder – Deesha Chocolates from Pune bears a big smile when asked about the right season & reason to eat Chocolate. A Masters in Pharma & a Doctorate, Deepak has spent more than 20 years in selling in Pharmaceutical Industries. His long-felt desire to search for a genuine Chocolate without Caramel base inspired him to make and present the Original, pure cocoa based chocolates in the market so that people get the opportunity to have pure chocolates and that's how Desha Chocolates was born.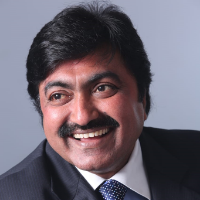 Deepak Toshniwal – Founder, Deesha Chocolates, Pune.
Deesha's Chocolate Bouquet consists of popular collections like Barbie, Blue Deck, Blue Ray, Blue Blue Sofa, Crunch Balls, Double Decker and many interesting collections.
'We also have Chocolates to suit Occasions, Recipients, Moods, Festivals, Zodiacs & Profession' Deepak continues.
 Deesha Chocolates is an innovative and fast-growing chocolate company, offering a range of over 230 plus varieties of chocolates in India and various parts of the world. 
Started its operation in 2012, Deesha today is recognized as one of the most creative and innovative chocolate-making companies as is evident by unique flavours, recipes, blends, products, and varieties of chocolates it has launched and been well-relished by its ever-growing customers.  
'Real-time research on products or services you want to enter', Deepak cites the secret Mantra to any Business. 'Whatever field you are into, see that you add value to the products and services. And also keep on adding innovations to your products and services to sustain in the market'
Deesha's Chocolate Ganesha is eagerly awaited by the Punerians for the upcoming Ganesh Chaturti.
Deepak Toshniwal can be reached at –